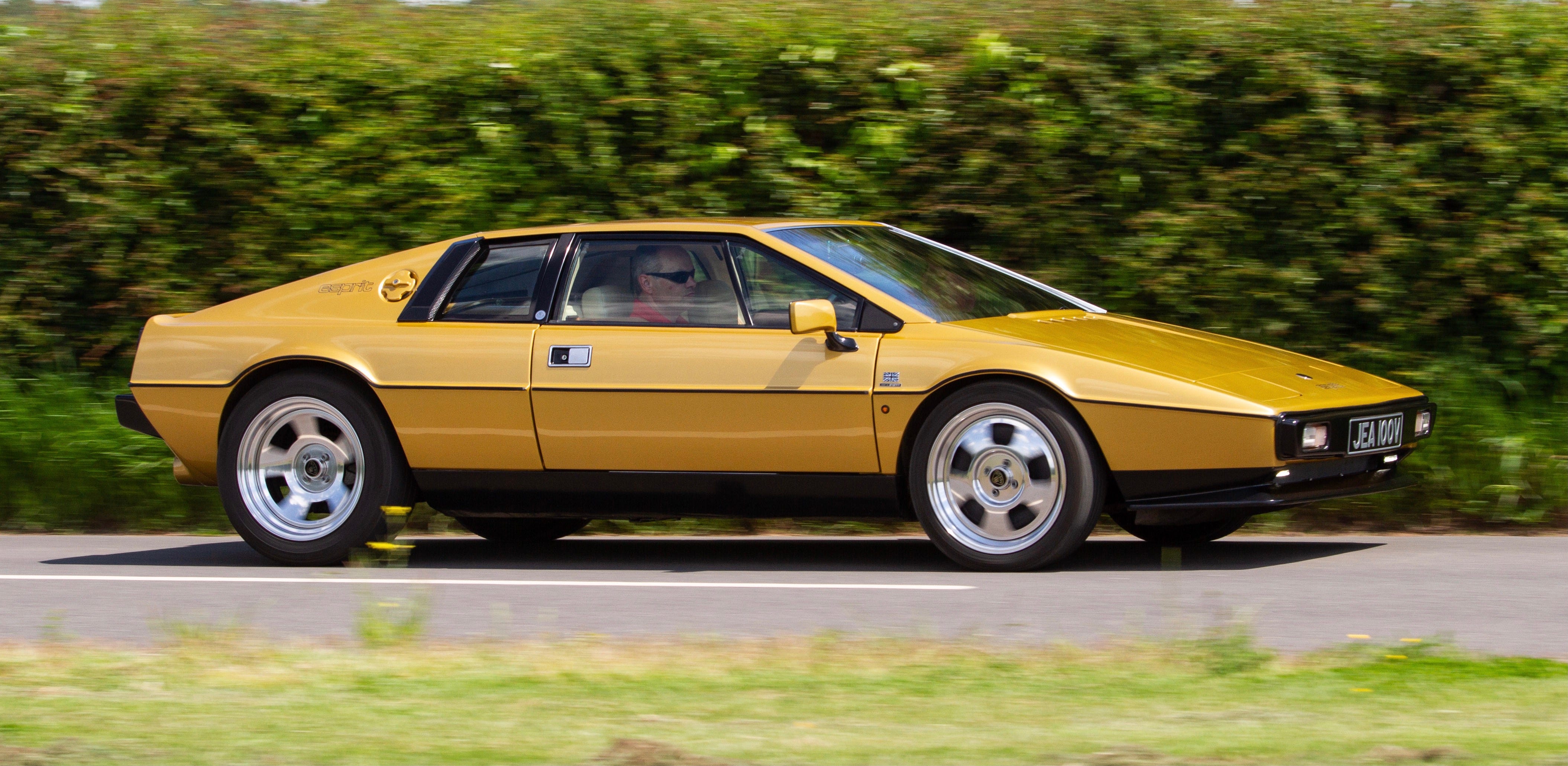 my 1979 Lotus Esprit Series 2
I bought a Lotus. Actually, it's my tenth Lotus (there are groups that can help) and easily the best. Because it's gold. And brown. And has pop-up headlamps. It's also a Restomod - a restored and modified car, updated for modern roads.

People often say about Lotuses, with a knowing smile, "Oh, Lots Of Trouble, Usually Serious". But those people have never owned a Lotus, or know anything of what they speak. Lotuses are awesome. Ask a child to sketch a supercar and they'll draw this - it's that level of cool!


But it didn't come all shiny and new. It came looking like it'd had a hard forty years. And so I set about realising a dream - a car for my inner '70's child. (actually, I didn't; some very nice people in Gloucester did all the spannering). So this is that other passion of mine.
Carried out by the superb team at Tomorrow's Classics.
The car before I took ownership of it.
The car as I bought it (and fell for).
Separating the fibreglass body from the steel backbone chassis.
The chassis and engine. This is what you don't see when buying a classic. This is where the wear and tear really is.
A much cleaned up, powdercoated chassis with cadmium plated suspension parts.
In goes an upgraded engine and bespoke stainless steel exhaust system. The engine uses a fuel injection system for better performance and fuel economy. It's been bored out to 2.2L and converted to a high compression unit. All-round better.
The body and chassis are married back up and with new [controversial] wheels. Note, the lockable fuel filler caps, rearview camera and parking sensors (you have to look really hard).
Work commences on the interior, with a bespoke binnacle setup and electronic dials (I got talked out of the gold facia; it ended up black).
You'd think old cars would be quite simple in comparison to their modern counterparts. Well, if this is simple, then...
The interior, very nearly complete. Champagne leather with chocolate alcantara. Note the Ferrari central ashtray (couldn't find an original Lotus item - they're even rarer!) and the round, resighted air vents.
The condenser for the air conditioning. It turns out, fitting aircon to a car without aircon is really, really hard.
The finished car.
In very gold
(championship champagne gold).
The high-mounted clock, in gold! (I made it myself. I know, you can hardly tell).
Apple CarPlay connectivity with rear camera viewer (because the rearview mirror is full of engine cover).
Bespoke LED rear lights. 204 LEDs per bank. They can't not see me now!
Kick plates named in gratitude for the work done by the team at Tomorrow's Classics. And because they look cool.
Engine output raised from 160 to 240 bhp. And torque from 140 to 190 lb ft (which is more than it sounds).
The full specification sheet with every job, every upgrade listed.
And how it looks now. Note the 'L O T U S' badging on the glovebox lid and how the ashtray is the phone holder.
Better, I think. See how the gear stick has been shortened, to improve the throw. The seats have also had the runners removed to improve headroom.
And with a refreshed, bespoke binnacle cluster. The steering wheel is a limited edition, MOMO Mario Andretti 1978 world championship wheel.
Plus, actual in-car satnav, full phone connectivity and music straight from my phone. Genius!
All the lights are LED, including the running lights, positioned in the front air dam.
The wheels were 14 inch, but getting good quality tyres (essential for safety) for such an old size is near impossible.
The 17 inch Wolfrace replicas are larger and wider, allowing for modern compounds and greater mechanical grip.
Single exhaust for better engine breathing and modified rear lights lenses for the LED printed circuit boards.
The bodywork and wheels are ceramic coated for protection and gloss. So no waxing, no polishing!
Absolute Lotus Magazine
In the autumn of 2021, the independent Lotus magazine, Absolute Lotus, ran an 8 page feature on the car. Ian Stent - a wealth of car knowledge - spent the day with it, me and another stock Esprit (also in gold - what were the chances?!) and gave his unbiased opinion of the work done.

It's a great article, even if considered purely from the perspective of whether, or not, restomodding a classic should even be allowed. It was a great day and a wonderful opportunity for some dynamic happy snaps.

By kind permission of Absolute Lotus, below are some of the pictures that they took. And, if you wish to read the article, click on the link below and it will take you to the Absolute Lotus website.
Content from Youtube can't be displayed due to your current cookie settings. To show this content, please click "Consent & Show" to confirm that necessary data will be transferred to Youtube to enable this service. Further information can be found in our Privacy Policy. Changed your mind? You can revoke your consent at any time via your cookie settings.
Consent & Show
CR Classics Video - Part 1
The owner of the other Esprit in the Absolute Lotus magazine article has a YouTube channel, and recently posted a walk round of the cars, pointing out some of the modifications, which you can view here.
Content from Youtube can't be displayed due to your current cookie settings. To show this content, please click "Consent & Show" to confirm that necessary data will be transferred to Youtube to enable this service. Further information can be found in our Privacy Policy. Changed your mind? You can revoke your consent at any time via your cookie settings.
Consent & Show
CR Classics Video - Part 2
The first video garnered some great responses and feedback, via the YouTube site. So much so, that Callum - of CR Classics - wanted to do a follow up to answer some of the comments raised and give some context to the build. This video covers a little background to the restomod and why I did certain things.
Content from Youtube can't be displayed due to your current cookie settings. To show this content, please click "Consent & Show" to confirm that necessary data will be transferred to Youtube to enable this service. Further information can be found in our Privacy Policy. Changed your mind? You can revoke your consent at any time via your cookie settings.
Consent & Show
CR Classics Video - Part 3
Because of the amount of video shot, Callum decided to break the comments element up and release it as Parts 3 and 4, covering the responses to the many points raised by the original walk round video. Here, we discuss the wheels, the ride and handling.
Content from Youtube can't be displayed due to your current cookie settings. To show this content, please click "Consent & Show" to confirm that necessary data will be transferred to Youtube to enable this service. Further information can be found in our Privacy Policy. Changed your mind? You can revoke your consent at any time via your cookie settings.
Consent & Show
CR Classics Video - Part 4
Finishing with the interior, engine and rear.
mark j suddaby | lotus custodian